7 Tech Updates Coming Soon
Social media platforms constantly update their features to enhance their members' experience and gain more users. Development is rapid and your ability to adapt across each social platform will determine your success in reaching target markets via social media. Here are seven new tech updates you can expect to blow up social media platforms in 2018:
1. Augmented Reality (AR)
In case you haven't noticed, AR is on the rise. At the Apple conference this year, it was announced that new iPhone devices would incorporate a new A11 chip that allows for a new and exciting experience for users. This technology can unlock devices with facial recognition and create Animojis that can be sent out to other iPhone users.
Animojis bring Emojis to life. On iPhone X, it's now possible to record yourself making faces as your favorite emoji, and then send that recording off to your friends. Apple's TrueDepth camera can capture over 50 different facial expressions and/or movements and then send them out as one of 12 different emojis. To learn more about how to record, save and share an Animoji, check out this article, "How to use Animoji: send, save, and share Animoji with (and without) iPhone X."
2. Growth of Live Streaming and Video
In 2017, 90% of all content shared on social media was video. Live streaming has also become a popular form of video content used by marketers last year.
Brands of all sizes have started using live streaming technology to capture the attention of their audience. This new wave of technology allows companies to engage with their followers through real-time comments, likes, and reactions. What's also awesome about this feature is that Facebook's algorithm favors live streamed content over a traditional update or post, making it easier to gain exposure and keep your audience engaged.
3. Instagram Stories
Unfortunately for Snapchat, there's a new instant story-telling platform in town. Instagram Stories launched in August of 2016 and it is projected that nearly half of all Instagram users will be using Stories by the end of 2018.
With that being said, it's obvious that brands are taking notice of the overwhelming use of Stories and will most definitely be using this to their advantage. Over 200 million people use Instagram Stories each month, which is 50 million more than those who use Snapchat. It's estimated that about 10 billion Instagram Stories will be consumed by users each day, which gives marketers a huge opportunity to improve their brand's visibility and following.
You can check out Owl Metric's step-by-step guide to creating the best Instagram Stories. This guide breaks down each Instagram Story feature and it is a great way to learn the ins and outs of this new tool in order to grow your presence Instagram.
4. Facebook Spaces
The vast majority of people are unaware of this, but it's likely that Facebook Spaces will be the first successful Virtual Reality social media product in 2018. There are several big changes Facebook Spaces could potentially bring to the marketplace.
If you're tired of outside interruptions, this will certainly be of interest to you. The possibilities of this tool are endless. For example, now with Spaces, you can get a feel for what a long road trip would be like with your peers and/or co-workers or get a real, hands-on experience test driving that 2018 A7 Audi without even leaving your couch.
Want to physically look at and get a feel for specific items before you purchase them? You're in luck-- convenience is coming. With Facebook Spaces, you will soon be able to take a 360-degree interactive shopping trip. This means no long lines for the register, no time wasted traveling to the stores, and much less of a chance that you will need to return said purchased items because it wasn't what you thought it would be.
5. Rise of Branding in Messaging Platforms
Instant messaging is becoming more popular now and is most commonly used as a free or low-cost alternative to text messaging. Mobile apps such as LINE and WhatsApp are two of the most common.
It's estimated that more brands will start allocating more dollars and time into messaging platforms on social media to target these users. Chat platforms such as Snapchat and Kik have already started and they are seeing positive results.
This graph shows the growth of WhatsApp users over the course of 4 years, which is estimated to grow to 25.6 million users by the year 2021. The internet-based messaging platform is becoming more popular with people that do not want to be contracted into a carrier bill. This allows you to stay connected to your contacts without that hefty monthly payment, as long as you can connect to Wi-Fi.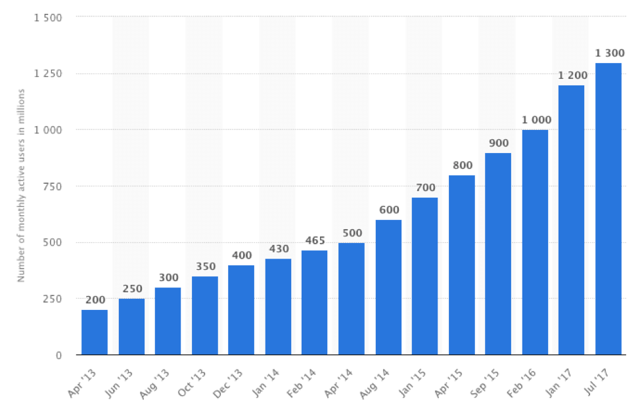 6. Influencers are Taking Over
Social media-based influencers are the new generation celebrities who have built their personal brands online. These influencers are being used in marketing campaigns to better connect with new audiences and improve their engagement with existing audiences.
The basic idea of this is nothing new; we are constantly influenced by brands every day and have been since basically the beginning of time. However, this new concept of having someone we know and trust give us advice on a product can certainly sway someone's purchasing decision. According to a recent survey from Adweek, 92% of consumers say they trust recommendations from others they know, may that be their peers or local stars, and would act upon them.
7. Chatbots
Imagine connecting with a brand via their website and clicking on a "chat now" button, only to have to wait in a virtual line for a representative who may or may not be able to answer your question. Now, imagine being helped by a computer, instantaneously. This is the new norm and the bright future of chatbots.
A chatbot, in simple terms, is a tool that can provide instant and accurate answers to customers located anywhere in the world. From simple tasks such as answering FAQs or more complex tasks of online ordering, Chatbots are assisting in customer service requests efficiently. According to IBM, the worldwide software company, Autodesk, has reduced customer resolution times by 99% and increased customer satisfaction by 10% in less than a year of chatbot usage.
Conclusion
All areas of our lives are affected by social media and the trends that gain popularity each year. Social media growth will only strengthen your brand's presence if you use the technology to your advantage. In 2018, social media is expected to be an even larger influence on our daily lives as these new technological advancements enter the mainstream.
What next?
Even with all these new features coming to social media, it is important to keep social media, social. Download our free checklist "How to Monitor Social Media in 10 Minutes a Day," to see how you can optimize your social media interactions and improve conversion rates in just 10 minutes a day.
Download your free social media monitoring checklist here: